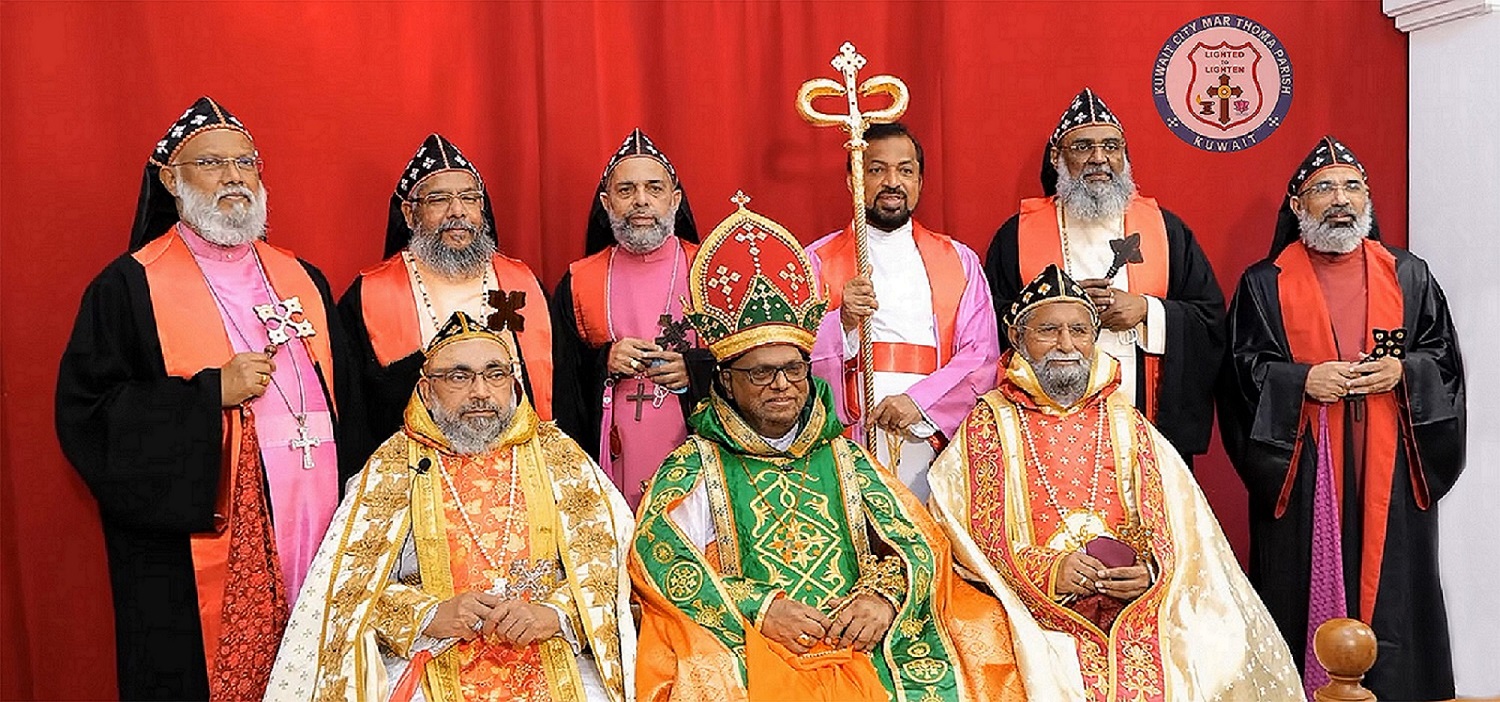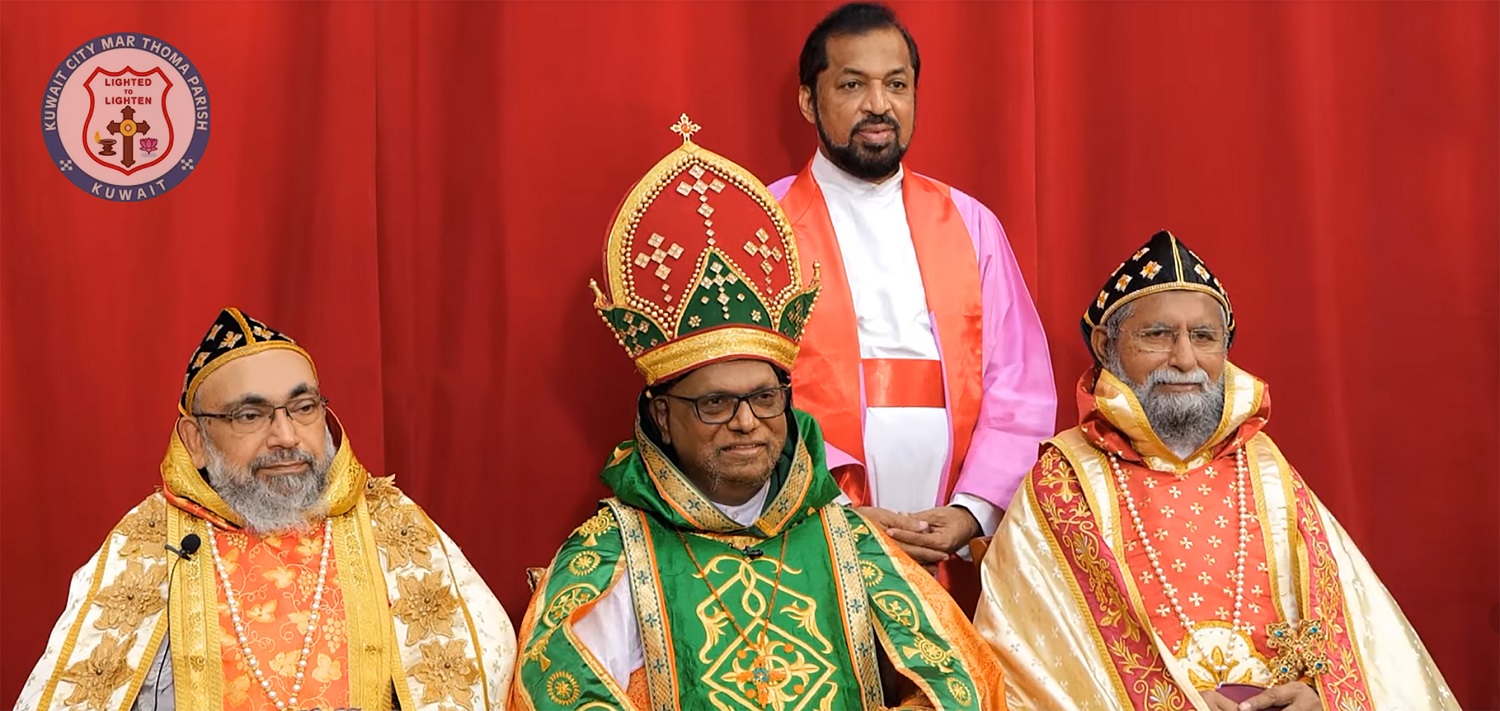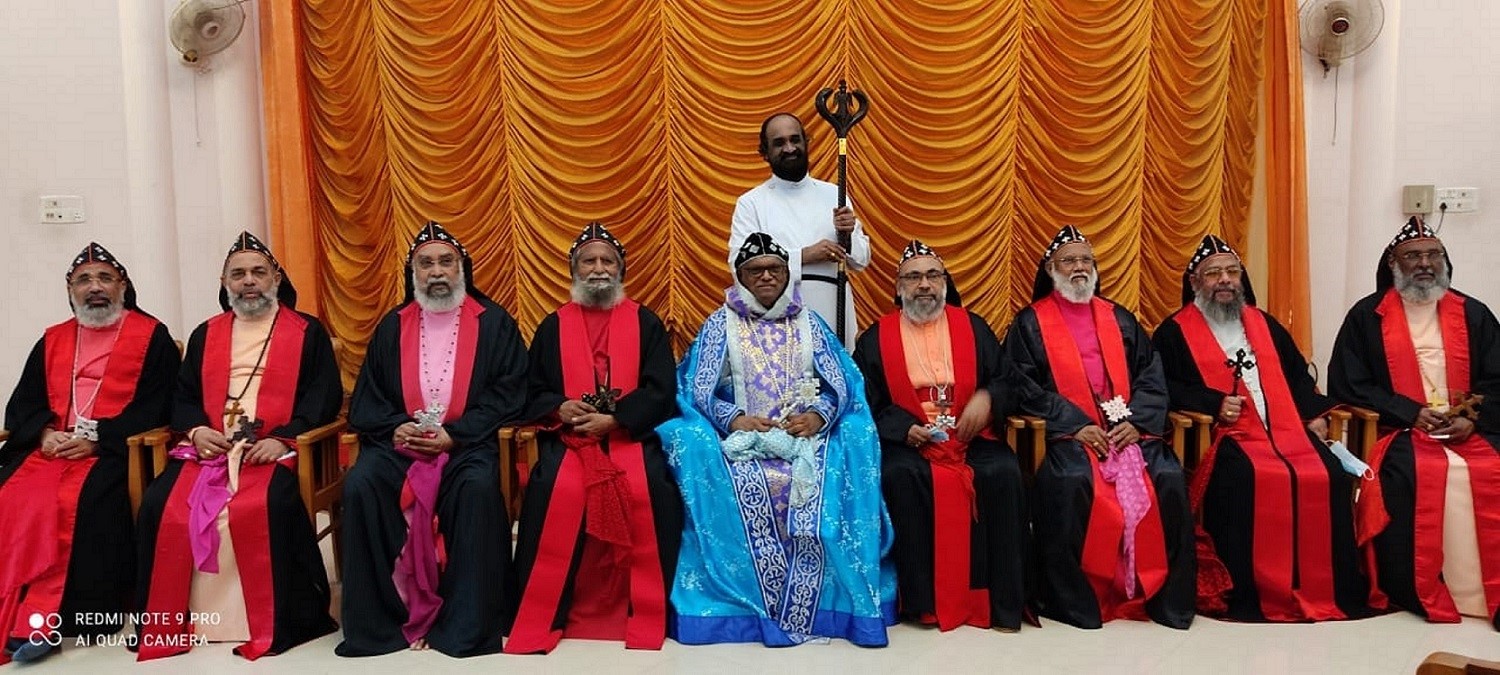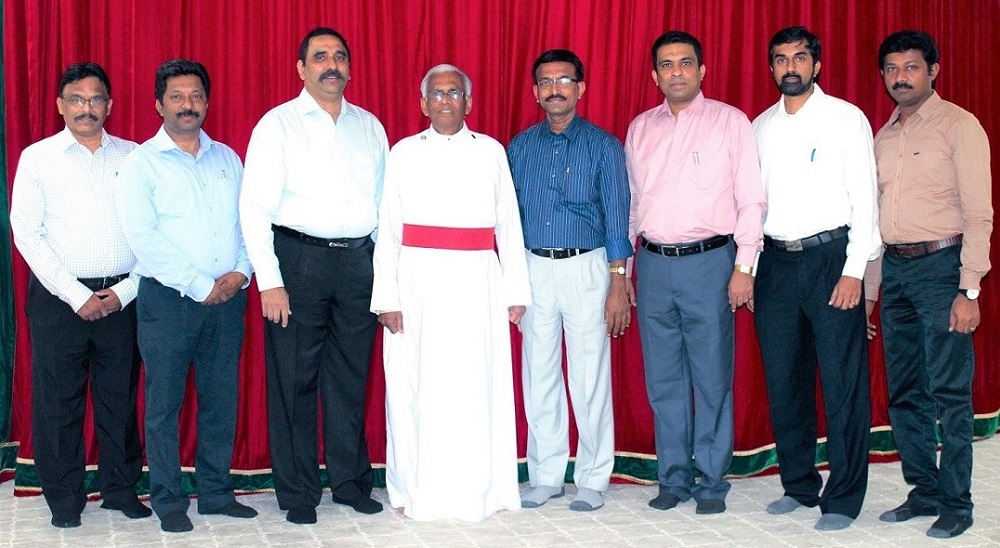 of Lighted to Lighten service in Kuwait
Kuwait City Mar Thoma Parish
A small mustard seed has sprouted and grown into a big tree, giving shade and nourishment for generations. Kuwait City Mar Thoma Parish is one of the biggest parishes in the Mar Thoma Church, giving the highest support for mission activities and various development work of the Church. The worship in Kuwait started by a small group of members of the Church, went for work in KOC ( Kuwait Oil Company) and at the American Mission Hospital in late 1940s. At the initial stages KOC extended the facility of inviting one priest every year during the Holy week, for special services. The Present Valia Metropolitan ( then Rev Philip Oommen) was the first priest to visit Kuwait, in 1948 under such arrangements. In 1952, Rev. Philip Oommen (Valiya Metrolpolitan H G Dr.Philipose Mar Chrysostum Mar Thoma Valiya Metropolitan ) conducts the First Holy Communion according to the liturgy of Mar Thoma Church and Rev M.G. Chandy ( Late Dr. Alexander Mar Thoma Metropolitan ) inaugurates the first congregational worship at the American Mission Church.
Welcome to Kuwait City Mar Thoma Parish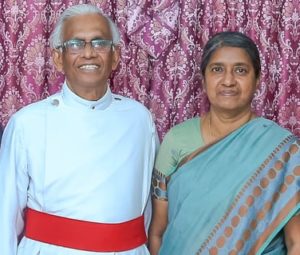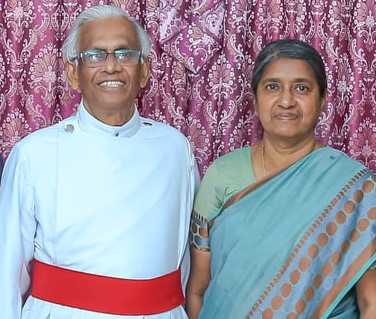 Dearly beloved in Christ,
Loving greetings in the precious name of our Lord and Saviour Jesus Christ. I address our dear ones with a grateful heart to God Almighty for enabling me to join the Parish family. I believe that God has planned it. " The Lord has done this, and it is marvellous in our eyes "(Psalm 118:23).
We are a faith community of diversity. We include the children, the teenagers, the youths, the middle aged and the elderly. We have variety of backgrounds, qualifications, occupations, responsibilities, tastes and views. The greatness of the Parish is born of this distinctiveness. Each individual including a small child has unique leadership and contributions for the building up of the Parish. As every note in the organ is needed for the full expression of the noble harmony, every member is needed to make his or her contribution for the loveliness of the Parish. Let us always keep in mind that " As it is, there are many parts, but one body "( 1 Cor. 12: 20 ).
"Revival " is the critical need of the day. Evil is rampant in the post modern world. Our contemporaries, in general, do not live as they should. God is patient and grants extra time for us to confess and live a godly life. Revival is the principal means for a new beginning. It is the antidote of evil and sinful life. According to Arthur Wallis " Revival is necessary to counteract spiritual decline and to create spiritual momentum ". In revival the Church dormant becomes the Church vibrant. Revival makes the Church holy, whole and happy again. Revival is more than big meetings, religious excitement , unusual events and terrifying manifestations. In essence revival is the renewing of our mind and transformation of our being. It is a new beginning in Christ. It is going of the old and coming of the new( 2 Cor. 5:17 ). Revival may significantly change an individual, a family, a group of believers, a parish, a city, a state, a country, or even eventually the world, but it begins in the Church. The Holy Spirit brings about revival of the Church and it is spread to it's related community and then to the wider world.The Church experiences revival first and then makes an impact on the society around. Revival always revitalizes God's people and changes the moral climate of the community. James Burns writes on revival " To the Church, revival means humiliation, a bitter knowledge of unworthiness, and an open humiliating confession of sin on the part of her ministers and people. It is not an easy and glorious thing many think to be. It comes to condemn ministers and people for their unfaithful witness, for their selfish living, for their neglect of the cross, and to call them to daily renunciation, to an evangelical poverty and to a deep and daily consecration. It says nothing to them of power, fame, success and gain they have learned to love "
Revival accuses us of our sin. It entails repudiation of self- satisfied complacency. It tells us we are spiritually dead. It calls us to awake, to renounce the world and follow Christ. Do we really want to experience a revival? Then pray fervently and unceasingly for the power of God to descend on us " like a rushing mighty wind " as was at Pentecost.
With love and prayers
C.K.Mathew Achen
On 30th May 1963, an official Kalpana received from Dr. Juhanon Mar Thoma Metropolitan approved the formation of a new Edavaka Kuwait Mar Thoma Parish and appointed Rev. M.O.Oommen as its first Vicar. The parish started with a membership of around 450 including children.
Our parish is the only Parish of the Mar Thoma Church which was extinct and which came to life again. During the Iraqi invasion of Kuwait in 1990 our parish ceased to exist. Our parishioners had gone through the real life experience of the Israelites walking through the deserts and reaching our motherland. God lead our people as under the clouds during the day and under the pillar of fire during the night.
Gracious Lord gave us a chance to return to Kuwait. Parish activities were again started in 1991. slowly the number our parishioners increased and it reached above 4500. Due to covid-19 pandemic crisis members are returning for good to their homeland. At present the strength of the parish is around 3100 members.
We have got now 40 prayer groups, and we have got all the church organizations well organized.
Church & Parish Hall | Kuwait
No event found!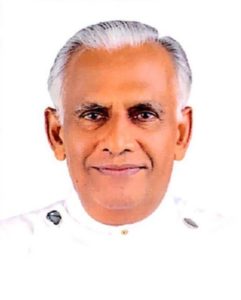 Very Rev. Dr. C. K. Mathew
VICAR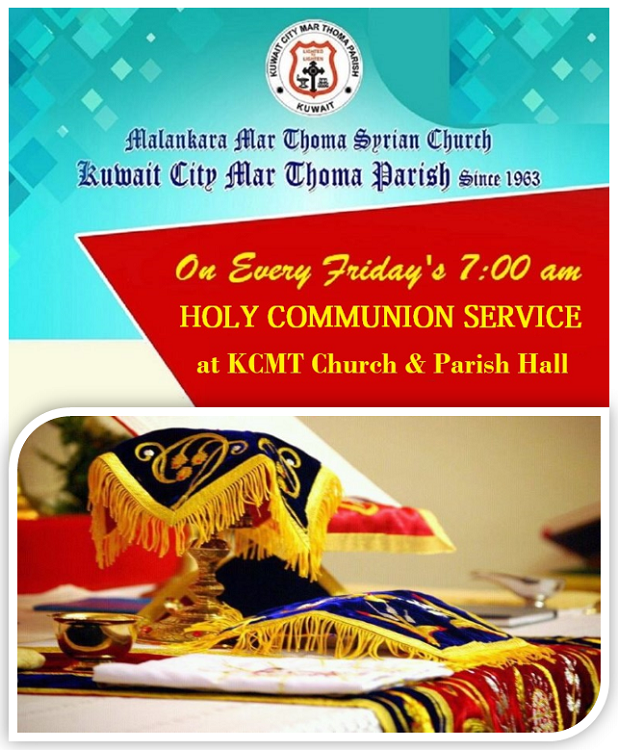 Worship Schedule
I, III & V Mondays 7:15PM  – Holy Communion at NECK North Tent
II & IV Mondays 7:15PM      – Holy Communion Service at NECK Church & Parish Hall
4th Fridays of April, August & December 8:15AM – Holy Communion Service at NECK Church & Parish Hall
Every Fridays 7:00AM – Holy Communion Service at KCMT Church & Parish Hall
Mr. O. Thomas (72) Regret to inform you all that…....
Read More
Mr. T. K. Varughese (93) Regret to inform you all…....
Read More
Mr. P.O. Augustine (79) Regret to inform you all that…....
Read More
Mrs. Sosamma Manuel (92) Regret to inform you all that…....
Read More
Mr. K. Varghese (85) Regret to inform you all that…....
Read More
Services schedule for next week 1. Holy communion service: Friday,…....
Read More
Mrs. Aleyamma Itty (96) Regret to inform you all that…....
Read More
"I am the light of the world. Whoever follows me will never walk in darkness, but will have the light of life." John 8:12
KCMTC & Parish Hall
Kuwait
Church & Parish Hall
Kuwait
KCMTC & Parish Hall
Kuwait
Church & Parish Hall | Kuwait
No event found!