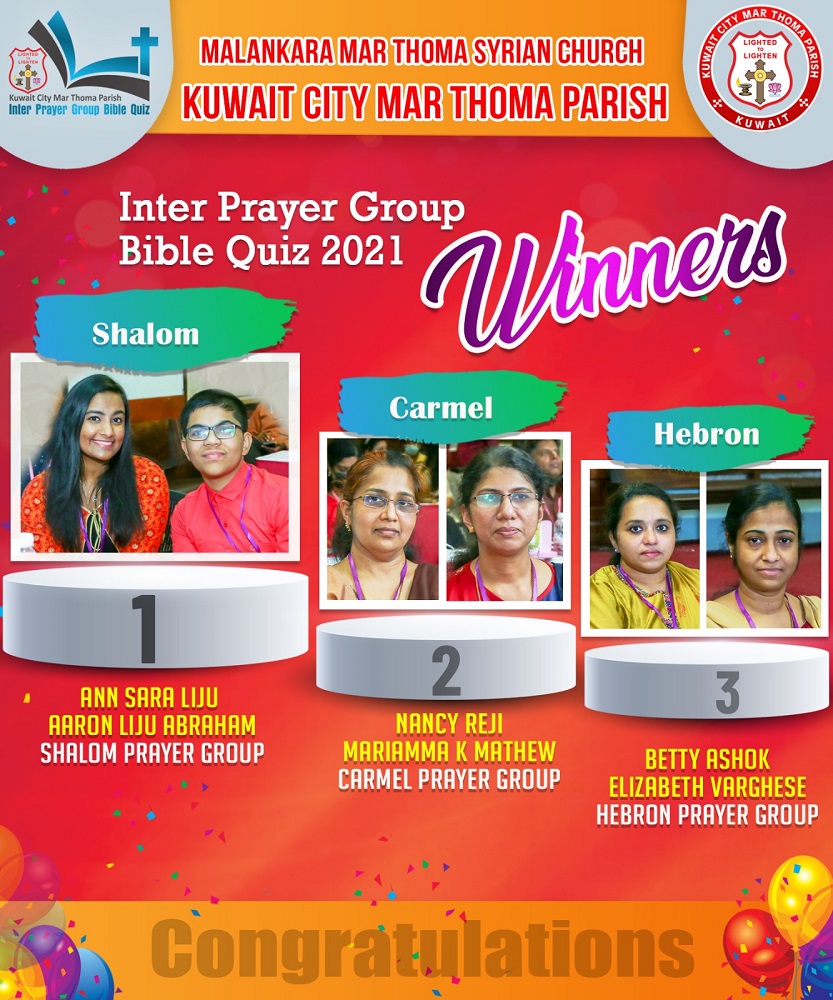 Thank You Note
"give thanks in all circumstances; for this is God's will for you in Jesus".(1 Thessalonians 5:18)
Inter Prayer Group Bible Quiz 2021
We thank the God almighty for making us able to conduct the Quiz competition event successfully.
We thank our vicar Very Rev. Dr. C. K. Mathew for his support and guidance throughout and the Kaistani Samithi members for their able support and encouragement.
We thank the NECK authorities, Mr. Roy K Yohannan for providing us the venue and allowing us to conduct the program in NECK Church and Parish hall.
We wholeheartedly thank our Convenors, Shijo Thomas and Dennis George for their great efforts in successfully planning, organizing and conducting this event.
They were mightily supported by the quiz software provider Mr. Shibu Mathew, without him this format couldn't be implemented. We thank him for this innovative quiz program interface.
A special thanks to UAE Exchange and their asst. General Manager Mr. George Varghese for sponsoring the program.
We thank the judges who also prepared the questions, Mr. Mathew Chandy, Mr. Jacob Varghese & Mrs. Sally Varghese.
A big thank you to Mr. Nidhin John Mathew and Mrs. Surya Thomas for the lively performance and apt control as quiz masters. They added life into the event.
Same goes for Ms. Saumya Susan Raju, who added quality to the event as a compere.
We also thank the various sub-committees who worked behind the scene, Admin Mr. Sumit Jacob, Mr. John Thomas Thekkumpurathu, Jebin Abraham and their general arrangement team, Mr. Philip Mathew and his sound and stage team, Mr. Shilu George and software support team, Mr. Robin Thomas and online live streaming team, Mr. Naiju Philip and his Volunteers team, Mr. Abit Tom Alex and his scoring team and our Web master.
We thank Mr. Johnson T A for designing wonderful online posters.
A special Big Thanks to all contestants and their prayer group officials for their participation. Without them there would be no event.
Last but not the least, A big Thank You to All Parish members and others who had attended the quiz both online and physically which made it a success.
There were glitches and delays due to the new format, for which we sincerely apologize to all the viewers and participants.
Congratulation to the winners of this event
1st Position : Shalom Team – Master Aaron Liju Abraham & Miss Ann Sara Liju
2nd Position : Carmel Team – Mrs. Nancy Reji & Mrs. Mariamma K Mathew
3rd Position : Hebron Team – Mrs. Betty Ashok & Mrs. Elizabeth Varghese
Prayerful Regards,
Bejoy Jacob Mathew (Parish Secretary)
Topic: Inter Prayer Group Bible Quiz 2021 – Kuwait City Mar Thoma Parish
Time: Sep 17, 2021 05:30 PM Kuwait. (8:00 PM IST)
Join Zoom Meeting
https://us02web.zoom.us/j/86739059214
Meeting ID: 867 3905 9214
Passcode: godislove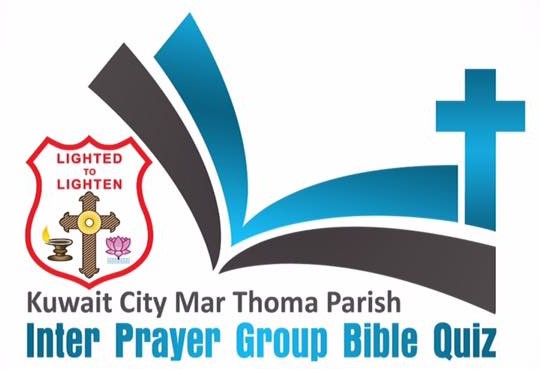 കർത്താവിൽ പ്രിയരെ,
ദൈവഹിതമായാൽ കുവൈറ്റ് സിറ്റി മാർത്തോമാ ഇടവകയുടെ ഈ വർഷത്തെ INTER PRAYER GROUP BIBLE QUIZ സെപ്റ്റംബർ മാസം 17 ന് നടത്തുവാൻ തീരുമാനിച്ചിരിക്കുന്നു.
വേദപുസ്തകത്തിൽ നിന്നും നെഹെമ്യാവിന്റെ പുസ്തകം, അപ്പോസ്തോല പ്രവർത്തികൾ, കൂടാതെ Mar Thoma Church History, General Knowledge & Current Affairs, General Bible Questions എന്നീ വിഭാഗങ്ങളിൽ നിന്നുമായിരിക്കും ചോദ്യങ്ങൾ.
ഒരു പ്രാർത്ഥകൂട്ടത്തിൽ നിന്നും 2 പേർ അടങ്ങുന്ന ഒരു ടീമിന് പങ്കെടുക്കാവുന്നതാണ്.
നമ്മുടെ ഇടവകയിലെ എല്ലാ പ്രാർത്ഥനാ കൂട്ടത്തിൽ നിന്നുമുള്ള പങ്കാളിത്തം ഉണ്ടാകണമെന്ന് അഭ്യർത്ഥിക്കുന്നു.
വെരി. റവ. ഡോ. സി. കെ മാത്യു ( വികാരി)
ബിജോയ് ജേക്കബ് മാത്യു (ഇടവക സെക്രട്ടറി), 
ഷിജോ തോമസ്‌ പുല്ലംപള്ളിൽ (
കൺവീനർ)